Client Profiles: LAR Housing Trust
In this series of Client Profiles, Jobs in Letting is delighted to share the property journey of Fiona Kelly. Fiona is Operations Director with LAR Housing Trust.
'It really is addictive'
One thing I often find in the world of property is that it is something people often "fall into" rather than being what they set out to do. Very few children when asked what they want to do when they are older will excitedly tell you their dream is to be a Property Manager! However, many find that once they have fallen into the industry, they are hooked, and I am no exception to this. Despite the common misconception by some that it is a glamourous industry, created by several well-loved TV programmes on the subject, there are so many fantastic things to being part of the property world and it really is addictive.
I started my journey as many others did, by accident, when I started a temporary contract after I left school as a call centre operative for a Housing Association in Suffolk, where I grew up. I then moved into the Income Management Team, but once my temporary contract was up, I decided to move into full time work at the pub where I had also been working part-time. This is the only period in my career when I haven't been working in property, however, it is also one of the most influential periods of my life and career.  Working in a pub taught me the most valuable lesson I've learned, which is how to talk, and more importantly to listen, to people from all walks of life. This taught me more about customer service and how to deal with people than any of the many seminars I have attended since and set me on the path of a career that involved dealing with people.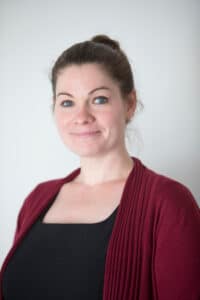 One of the things I love about working at LAR Housing Trust is that there is such a strong focus on customer service and striving for excellence, and it really is about helping our customers as much as we can. This culture is embedded in the organisation and is what makes our work so rewarding.
'Never looked back…'
When the pub was sold and I was made redundant there was coincidently a vacancy in the Income Management Team again so I returned and have never looked back. I worked my way up to Operations Manager, managing around 5,000 properties with 28 staff across Suffolk and Essex. One thing I always found about working at the Housing Association was that no two days were ever the same, regardless of the role I was in, and whenever I thought I had heard it all, I could still be surprised! This continues to be true today in my work in the property industry, and I think is one of the appeals to this line of work, it is certainly never dull.
Move to Edinburgh
After 13 years working there, I moved to Edinburgh and at this point I had also started an MBA with the Open University. I was starting to think about moving sectors, but with no formal education after school at this point I wanted to get a qualification that would help me to change my career path. However, it only made me realise that I love the sector I am in, and that I needed a change of scenery rather than a change of industry.
After a short temporary stint in Student Accommodation, I took on the role as Area Director for a lettings agency in Edinburgh. This was a new challenge for me and one I thoroughly enjoyed and it was enough of a change to reignite my interest in the world of property management. I then joined LAR Housing Trust as Operations Director two years later, and I had not dealt with mid-market rent much prior to this but thought it was such a fantastic idea. It really helps a lot of people who are stuck between the high private rent levels and not being a priority for social housing. It's so nice to be able to provide good quality, affordable housing for those who need it and it has been so rewarding being part of the growth of the business from just over 100 properties to well over 500 properties with another 300 on the way in the next couple of years. As well as this, the factoring business has been launched and the company has grown from just 5 of us when I joined to 15 members of staff. I can't wait to continue on our exciting journey and although I never would have predicted I would end up on this path, I'm so glad that I did.