Client Profiles: Umega Lettings
Jobs In Letting works with most letting agencies in the City of Edinburgh across a broad spectrum of brands and cultures. In the first of our new series of Client Profiles, we look at the property journeys of their managers and founders to highlight the often varied and colourful routes to their current destination.
Umega Lettings is one of Edinburgh's largest letting agencies, despite being only just over 10 years old. Founded in 2007 by Andrew Whitmey, it now has almost 700 properties under management.
Andrew's career in property started in 2002 when he accepted a post as a commercial property surveyor with King Sturge Chartered Surveyors. During his three year employment he was involved in investing in, renting and managing commercial properties.
When he resigned from the post in 2005, he returned to help his dad managing his lock up garage business. However, 6 months later, Andrew decided it was time to move on and he set up his own business, Links Property Management, in Corstorphine.
Holding the fort on his own, Andrew was pleased to welcome in 2007 his business partner, Neil McInnes, who put systems and processes in place that would allow the business to grow.
Reminiscing this time in his career, Andrew said: "I remember when I managed about 50 flats my key 'system' was a box of keys with no labels on them. I knew what keys for each separate property under management looked like so didn't need to log key numbers etc. – probably the most secure (yet least scalable!) key system you could have!"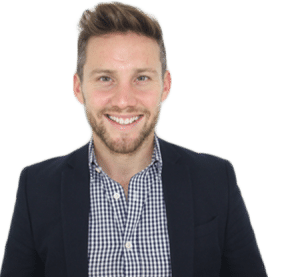 In 2008 Andrew and Neil decided to expand and opened up a sales office in Stockbridge and moved the lettings side of business from Viewforth to their current office in Marchmont. However, with the sales market struggling, in 2009 they came to a business decision to focus on lettings only. This proved to be a great decision. As Andrew said "it's much better to focus on one thing and to do it very, very well".
In 2013 Umega Lettings became ARLA regulated and 2 years later was named one of the first Bcorps in Scotland. B-Corps are businesses that have a higher purpose above just making money. For Umega Lettings the higher purpose is to create an amazing place to work and improve standards within the Private Rented Sector.
To manage their growing portfolio of properties, Umega Lettings opened a new office in Quartermile this year. It currently employs 19 members of staff and puts a lot of emphasis on the culture, training and developing the team. Last year Umega launched Umega Investments and now a big part of the service is to source properties for investors before handing these over to the lettings team to let and manage. The ambition is to lead the way in the lettings sector and set standards of what a great letting agent is.
Andrew and his business partner put their staff in the centre of the business. "Our service is only as good as our people", says Andrew. Umega recently set up a staff property fund to benefit the team directly by ring fencing 20% of profits and putting them in a fund to be invested in residential property. They hope their Staff Property Fund will help to attract and retain the best people out there. The property fund gives the team a financial stake in the success of the business and gets them thinking like landlords which is a fantastic development opportunity.
Having confidence in his lettings and management team, Andrew can now focus on developing the business, working on new areas of growth and working with developers and property companies to help them appraise opportunities.
"It's amazing how long it takes to really know yourself/know your business and, 12 years after leaving the surveying world, it feels like we finally know who we are and what we want to achieve; we're just at the start line now in terms of what we we're capable of achieving with Umega Lettings. We have the right people on board and we have a growing reputation within the sector so we're ready to really go out there and fulfil our potential. Exciting times ahead!" (Andrew)