Roles in the Property Sector – What Property Jobs Did We Place in 2017?
Here at Jobs in Letting, we always like to report on the different areas of property we place in.
Contained below is an overview of the variety of roles which our clients have recruited for over a 12 month period.
Property Management Roles
Property Manager
Duties: Dealing with all aspects of a portfolio of properties. Carrying out Property Inspections / move in's & outs, liaising with Landlords, Tenants and Contractors. Dealing with all maintenance issues. To ensure the over-all tenancy runs as smoothly as possible.
Must Haves: full working knowledge of Current Legislation / Full Clean Drivers Licence. Strong local area knowledge.
Senior PM – in some cases you may be in charge of a small team therefore 'people management' skills are required.  Also, winning new Landlords/new business together with looking after a portfolio of properties.
Trainee PM – you may have been an Assistant PM therefore have excellent working knowledge of the administrative side of Property Mgt. This is the next step up.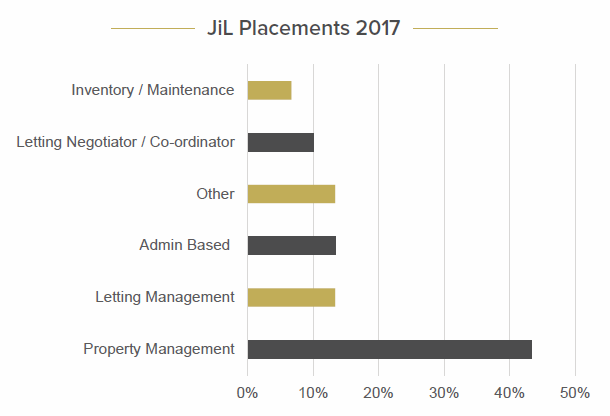 Letting Co-ordinator
Duties: The Letting Coordinator is a key member of the Letting Department providing exceptionally high standard of service to tenants and clients. You will be responsible for the letting and occupancy of the properties within the branch / team.
Must Haves: Excellent Customer Service Skills / Strong IT / exceptional organizational skills. Good communication skills – both written & verbal.
Full Clean Drivers Licence.
Letting Negotiator
Duties: The Letting Negotiator is predominately a 'front-line' position dealing effectively with both Landlord and Tenant enquiries, securing Letting Valuations and prospective tenant viewing appointments. Managing a portfolio of pre-let and void properties, organising all advertising and promotional material to generate prospective tenant enquiries. You will manage the diary of the Viewing Representative, and ensure Landlords are kept fully updated on all progress
Must Haves: Excellent Time Management / Methodical thinker / Extremely well organized / Competent IT Skills / Strong communication – both written & verbal. (good grammar)
Property Admin
Duties: Assisting the Letting Team with all pre & post tenancy administration. Reference checking / Utilities / Lease Agreements / Notices / Annual Safety checks.
Updating property adverts on Website & other portals.
Must Haves: Strong organizational skills / Eye for detail. / excellent time management & planning. / Can do attitude and take direction well.
Inventory / Maintenance Roles
Inventory Clerk – you will be preparing detailed Inventories (Condition Reports), conduct routine inspections and check outs upon expiry of the tenancy and negotiating any deposit disputes with SDS.
Must Haves: Excellent customer service is an absolute must. A full, clean UK Driving Licence. Experience of taking full inventories will be an advantage.  Good area knowledge.
Maintenance Inspector – Carrying out regular inspections of modern properties and traditional tenements ensuring compliance and assessing fire risk, health and safety issues.
Carrying out Check-Ins and Departure Check –Outs.
Preparation of Inventories.
Instructing Contractors.
Corresponding with Property Owners via phone, e-mail and letter.
Providing a high level of customer service, building relationships, resolving any complaints.
Co-ordinating any Insurance Claims on behalf of Property Owners.
Must Haves: you should ideally have experience in a similar role. It is essential that you can handle a busy workload, have strong organisational skills and communicate well. A Full Clean Drivers Licence is essential.
Letting Manager
Duties: Running the Letting Dept. Proactively winning new business. Managing the team. Networking at Client Events. Overseeing department budgets. Carrying out Presentations. Market appraisals.
Working to targets.
Must Haves: Experience of working within Residential Letting. Successful track record of winning new Landlords. Management experience. Working knowledge of current Legislation. Full Clean Drivers Licence. People Management skills.