Summer Placement 2018
Jobs in Letting are always keen to introduce the property sector to potential new candidates and reaching out to school leavers seemed like a great opportunity. There is a huge variety of roles available within the sector; a great place to start and gain more insight is securing a summer placement within a busy property company.
Last year we were lucky enough to meet some fantastic students at Broughton High School and give them some general information/advice on possible employment within the Property Industry as a great career option when they leave school or to try and assist them in securing 'summer work' throughout the holiday period.
We were delighted earlier this year when we received an email from Ruth (one of the students) asking if we could assist her in possibly finding a summer placement before she starts University in September. Ruth came into the office for a proper chat and to 'register'…
We received a positive response and were extremely pleased to arrange an interview for Ruth at Belvoir, Edinburgh. Our client Susan was keen to get an extra pair of hands to assist the team over their extremely busy summer period.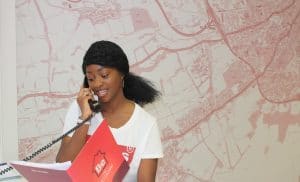 Three months on…
Susan at Belvoir: "At our busiest time of the year Michelle came up with a perfect solution for additional summer support.
Ruth was a student Michelle had met the previous year and was keen to take on some general office work prior to commencing her university course in September.
Ruth proved to be a valuable asset to Belvoir over the 3 months she was with us and went beyond our expectations. With a bright personality and positive attitude she assisted members of the public, tenants, landlords and contractors in a professional and unfazed manner.
Ruth also assisted with the booking of viewings, updating our property display windows and the general day to day running of our extremely busy front office. We wish Ruth all the best at University and hope that she will return back next year."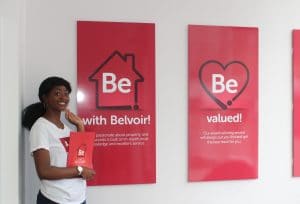 Ruth: "Through the help of Michelle at Jobs in Letting, I was able to transition easily from high school into the world of work. Michelle was able to take me through the process, which was quick and straightforward and I was able to start work straight away.
I am glad I got in touch with Jobs in Letting as over the summer period I was able to gain a wide range of skills together with great experience that I never thought I would have gained.
Joining the 'working world' at such a young age has really helped open more opportunities and widened my perspective as there is so much out there to experience.
At first, the thought of going into an office environment made me nervous but the outcome was tremendous, I received so much encouragement from Michelle and the team I worked with.
Throughout my summer internship at Belvoir, I have been able to grow and adapt within the working world. I have also developed mentally and physically and I have been able to take on more responsibilities."