Currently working within the Property Industry or looking to move into the sector: What roles are out there?
As we head into 2017, JIL takes a look back at placements made in 2016. The chart below details the types of jobs we have recruited for and additionally we explore in more detail what each position entails. There are some variations on 'Job titles' from company to company; however, over-all they can be classed as follows….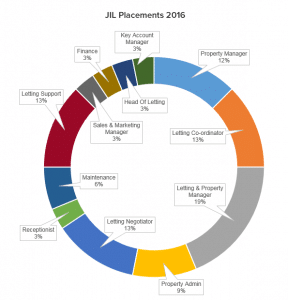 Property Manager
Duties: Dealing with all aspects of a portfolio of properties.  Carrying out Property Inspections  / move In's & outs, liaising with Landlords, Tenants and Contractors.  Dealing with all maintenance issues. To ensure the over-all tenancy runs as smoothly as possible.
Must Haves: full working knowledge of Current Legislation / Full Clean Drivers Licence. Strong local area knowledge
Letting Co-ordinator
Duties: The Letting Coordinator is a key member of the Letting Department providing exceptionally high standard of service to tenants and clients.  You will be responsible for the letting and occupancy of the properties within the branch / team.
Must Haves: Excellent Customer Service Skills / Strong IT / exceptional organizational skills.  Good communication skills – both written & verbal.
Full Clean Drivers Licence.
Property Admin
Duties:  Assisting the Letting Team with all pre & post tenancy administration.  Reference checking / Utilities / Lease Agreements / Notices / Annual Safety checks.
Updating property adverts on Website & other portals.
Must Haves: Strong organizational skills / Eye for detail. / excellent time management & planning. / Can do attitude and take direction well.
Letting Negotiator
Duties: The Letting Negotiator is predominately a 'front-line' position dealing effectively with both Landlord and Tenant enquiries, securing Letting Valuations and prospective tenant viewing appointments.  Managing a portfolio of pre-let and void properties, organising all advertising and promotional material to generate prospective tenant enquiries. You will manage the diary of the Viewing Representative, and ensure Landlords are kept fully updated on all progress
Must Haves: Excellent Time Management / Methodical thinker / Extremely well organized / Competent IT Skills / Strong communication – both written & verbal. (good grammar)
Receptionist
Duties: Meeting & greeting all clients arriving at the office.  Dealing with all incoming calls.  Putting together Property Lists.  Up-dating company website.  General office admin.  Responsible for the front office. Booking meeting rooms.
Must haves: Excellent Customer Service skills / IT proficient / Well presented.  Friendly and helpful personality.
Sales & Marketing Manager
Duties: in charge of company Blog & press releases. (social media) / working alongside Senior Management to review all revenue streams.  Provide monthly market research updates and attend launches for competitor analysis.
Must Haves – A strong track record in Residential Letting.
Involvement with lettings process and strategy.
Though not a pre-requisite, the ideal candidate will have experience in coordinating marketing duties in addition to Letting experience.
Strong understanding of brand awareness.
Head of Letting
Duties: Running the Letting Dept.  Proactively winning new business.  Managing the team.  Networking at Client Events.  Overseeing department budgets.  Carrying out Presentations.  Market appraisals.
Working to targets.
Must Haves: Experience of working within Residential Letting.  Successful track record of winning new Landlords.  Management experience.  Working knowledge of current Legislation.   Full Clean Drivers Licence.
Finance
Duties: This will include assisting with taking payments, paying Landlords and Contractors, managing Deposits within the Tenant Deposit Scheme.
Process and record all sales and purchases documentation ensuring they are accurately matched to sales invoices and purchase invoices in line with business requirements.
Prepare, maintain and post monthly journals and cashbooks.  Ensure all purchase orders, cancellations and refunds are processed efficiently.
Must Haves – It is essential you have excellent knowledge of Sales Ledger and monthly reporting and reconciliations together with credit control and strong bookkeeping experience.
First class customer service is vital together with an enthusiastic approach to all tasks.  You must be a positive team player.  Ideally you will have experience working within the Accounts Team of a Letting Agency.
If you're thinking of exploring a new job in Property, please feel free in contacting us.